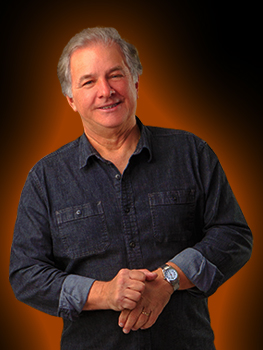 Pat comes from a large family where music was always playing in the house. Two of his five siblings also play music. His dad loved big band and swing music and encouraged his children to learn a horn instrument. But on Feb. 9, 1964, Pat's mind was made up. "The Beatles" on "The Ed Sullivan Show" changed his whole life. He knew then that he wanted to play rock & roll.
It is impossible to name all of the artists he listened to as a kid but "The Beatles" and the whole mid-60's British Invasion were a strong influence. Just as much if not more, Pat loves mid 60's soul music, and as much as he loves Motown, especially Gladys Knight, he points to the grittier sound of the Atlantic/Stax artists as a bigger influence. Artists such as Otis Redding, Wilson Pickett, Aretha Franklin, Sam & Dave and Ray Charles.
His grandfather bought him his first guitar for $7.00. When his parents realized his commitment to learning, they paid for his first electric guitar. After years of practicing his guitar and singing in his bedroom and the garages of Harahan, La., he joined a band called "River" with some friends from East Jefferson High School. The band would play a few small gigs a month and from this point Pat would always be in a band. The names of these bands were "Valhalla", "Jack Straw", and "Slippery When Wet". It was the early to mid 70's and all of these groups played the hit songs of the day. In all of these bands Pat was the lead singer but also would occasionally play guitar or bass.
It was Sep. 6, 1975 that he saw "Bruce Springsteen & the E Street Band" live for the first time. Again (as The Beatles did for him earlier) his belief in the power of rock & roll was reborn. Bruce Springsteen is the biggest musical influence of Pat's adult life. He would subsequently see Bruce perform live seven times.
"Slippery When Wet" was a funk band and in early 1976 were invited to open a few shows for T.Q. & The Topcats (a 50's & 60's show band). Pat knew some of the members of that band from high school and quickly became friends with the other members. In August of that year he was asked to join The Topcats as one of the three lead singers and he jumped at the chance to make music his full time occupation. He took on the nickname Choo Choo Cabooski and has been in The Topcats ever since.
T.Q. & The Topcats spent the next three years on the road playing showcase clubs all over the south. The group also recorded several classic 50's & 60's rock & roll songs at famed Ardent Studios in Memphis. Pat's version of the Gene Pitney classic "Town Without Pity" was always a highlight of the show.
Late in 1979 T.Q. left The Topcats and the band would go through many changes over the next few years. As the longest running member of The Topcats, Pat was thrilled when the four members (at one point there were nine) who make up the band now, came together in 1983, and he's now celebrating twenty years with the same four guys!
Today Pat is still surrounded by music. He considers himself somewhat of a rock and roll historian. There is still always music playing in his house and he owns a huge CD and record collection. He also loves rock & roll trivia and is always reading books and studying the history of the music he loves. He realizes how very fortunate he is to be able to make a living and support his family doing what he loves…music.
Check out Pat's 1977 recording of "Town Without Pity" below! This recording features Pat on vocals, Gino Perez on piano, Steve Monistere on bass, Jeff Hicks on drums, Charlie Cuccia on guitar, Dennis Zambon on sax, and was arranged by Jimmy Bordelon. This tune was a perfect example of the songs that Pat loved and performed at that time!